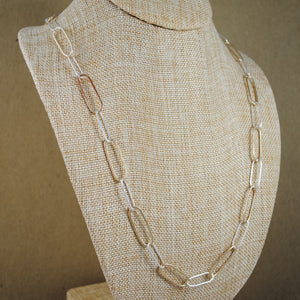 Paperclip Chain Necklace - mixed metals
Cameron Kruse Lester
Regular price $195.00 Sale
New Paperclip Chain! 
Each link of this chain starts out as wire that I cut, solder, shape, and polish, all by hand. It is created with alternating silver and gold elongated oval links, creating a beautiful drape to the chain. It is a bit longer than my normal chains, creating a more elegant look in my opinion. This is my take on a classic piece, and it can be truly worn on a daily basis and last a lifetime. 

Materials:
Sterling silver and 14 karat yellow gold-filled.
About 24" long. Email me if you would prefer a different length. 
Looks great with my paper clip style earrings or your favorite hoops!