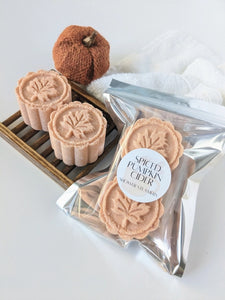 Spiced Pumpkin Cider Shower Steamers
Beachy Bubbles Bath Co
Spiced Pumpkin Cider Shower Steamers are a Fall time treat for your shower routine! Scented with cinnamon, sweet orange, clove, ginger, and nutmeg essential oils along with Pumpkin Spice fragrance, this aromatherapy combo will get you in the spirit of autumn for sure! The addition of menthol aids in carrying the aroma throughout the shower.
Our shower steamers come in packs of 2. Each steamer weighs approx 2oz.
*Vegan and Cruelty-Free Ingredients
*Never tested on animals.
*Color and appearance may vary slightly between batches.
Instructions for use: Place on shower floor under running water. Allow steam from shower to carry the aroma.